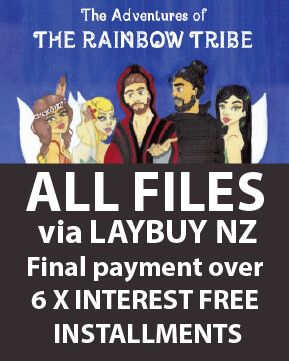 The Rainbow Tribe - ALL FILES - Final payment
PRD
$880.00
Thank you for your payment.
All files will be made available to you via WeTransfer, once the balance of $880 is paid in full.
PAY ONLINE:
You can pay this in one instalment online
LAYBUY OPTION:
OR you can chose to pay the remaining $880 by LAYBUY over 6 weeks, interest free.
As soon as the first LAYBUY NZ instalment shows in the PRD business account, you will receive all of your files.
The first LAYBUY payment will activate the availability of the complete suite of design and print files for you to download via WeTransfer.
NOTE: If you prefer your files on a memory stick please contact me at ji@prd.nz and I can make this happen. Postage and memory stick will be charged extra.
Please note: The payment for this product has been made available to you through LAYBUY so that you can take advantage of the 6 weeks of interest free payments.
However, If you wish to pay in full you can do this by choosing bank deposit or the Credit card facility.
Thank you for your business.
SKU: 10000-2